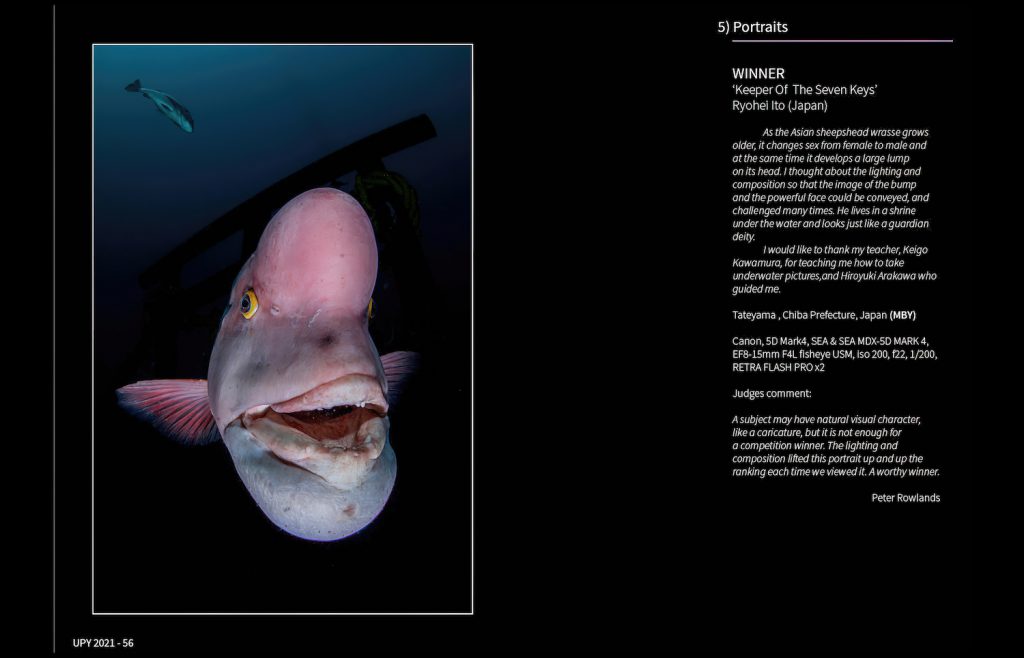 この度水中写真の世界大会、UPY2021(Underwater Photographer of the Year2021)のポートレート部門で優勝いたしました。全部門通して日本人としては初の快挙となります。
憧れ続けた世界中の著名な写真家の方々と名を連ねることができて感無量です。
撮影したのは千葉県館山市の波左間沖のコブダイです。
コブダイという魚は生まれた時はメスで成長すると頭のコブが大きくなり、オスへと性転換します。
コブダイという魚の最大の特徴である頭のコブの立体感や質感、そして迫力のある顔を表現するために何度も試行錯誤しました。


This time, I won the portrait category of UPY2021 (Underwater Photographer of the Year 2021), the world competition for underwater photography. This will be the first feat for a Japanese person in all departments.
I'm impressed to be able to join the names of famous photographers from all over the world who have been longing for me.
The picture was taken of an Asian sheepshead wrasse off the coast of Hasama in Tateyama City, Chiba Prefecture.
When a fish called Asian sheepshead wrasse grows up as a female when it is born, the hump on its head grows and it changes sex to a male.
I made many trials and errors to express the three-dimensional appearance and texture of the hump on the head, which is the greatest feature of the fish called the Asian sheepshead wrasse, and the powerful face.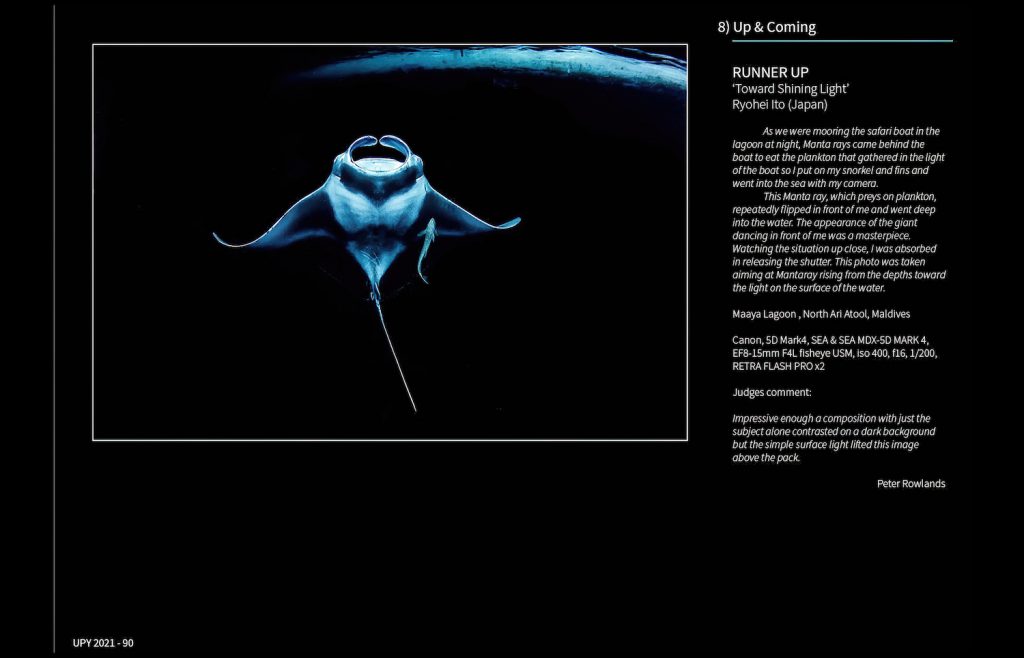 またUP&COMINGという新人部門でもRUNNER UP(準優勝)いたしました。
撮影したのはモルディブ・アリ環礁北部のマンタです。
僕はモルディブで撮影する時はダイブサファリというダイビング専用船に寝泊まりしながら色々なポイントを撮影していきます。この写真は夜船を停泊させていた時に、船尾の灯りに集まってきたプランクトンを捕食にきたマンタを撮影しました。写真の上の方の青い帯が船尾の光です。マンタが水面に向かって浮上していくところを狙って撮影しました。
マンタの素晴らしい写真はすでにたくさん出回っているので、それらとは一味違う写真を撮りたいと思い、ダイビングではなく素潜りで中層で撮影しました。モルディブの海は大好きなので、そこで撮影した写真が世界で認められたことは嬉しく思います。
I also won the RUNNER UP (second place) in the newcomer category called UP & COMING.
The picture was taken of Manta Ray in the northern part of Ari Atoll, Maldives.
When I shoot in the Maldives, I shoot various points while sleeping on a diving boat called Dive Safari. This photo was taken of a manta ray that came to prey on plankton that had gathered in the stern lights while the ship was moored at night. The blue band at the top of the photo is the light at the stern. I shot it aiming at the manta ray ascending toward the surface of the water.
There are already a lot of great pictures of manta rays on the market, so I wanted to take a different picture, so I took it in the middle layer instead of diving. I love the Maldivian sea, so I'm glad that the photos I took there were recognized around the world.